Within your DataShare client portal, you will find "Reporting Packs" on the left hand side. Click on the "+" to expand all available reports.

Within Reporting Packs are a standardized set of reports that are generated and downloaded into Excel.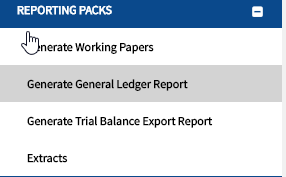 You will find the following information within each report:
Generate Working Papers

- This is a zip file of all standardized working papers. It includes financial reports, trial balance, financial analytics, accounts receivable and accounts payable aging analysis, lead sheets for all major categories of accounts, receivables and payables open item list, schedule of bank transfers and movement reports.

Generate Journal Entries Report

- chronological listing of all journal entries that were recorded by the client. Information includes type of transaction (ex - manual general ledger entry), effective date, account codes and descriptions, references or notes made with the journal entry, posted date and users.

Generate General Ledger Report

- movement report for each account within the period selected. Shows beginning balance, all debit and credit activity within the account, and an ending balance.

Generate CCH ProSystem fx Engagement Report

- this is for Engagement audit software users. This report will generate a CSV formatted trial balance that can be easily uploaded into Engagement.