The Validis Admin Dashboard
Validis Admin is the administrative section of the Validis Portal where you can manage your Users, Engagements, Perform Branding and Customization, and Setup API keys.
If you have the appropriate permissions, the Admin tab will appear in your Validis Portal when you log on.
Each Validis Client will have at least one Administrator, who will have full administrative control over the Validis Portal. The Admin will be able to view the full Dashboard, as shown below.
There is a quick access Menu on the Validis Admin tab enabling easy access without having to continually navigate back to the main dashboard page.
Click the word Menu to show the ribbon.
Clicking on the User Menu on the far right will open up other quick access options that are not permanently displayed within the tab view.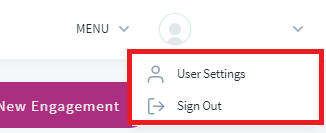 The User Settings option will allow you to manage and change your own user profile settings.
There are separate knowledge articles about managing users, creating and managing engagements, and working with reports.