As we continue to enhance the user experience of DataShare portals, we've made some changes to how our reports are organized on DataShare View.
Please see below for details and contact your Account Manager with any questions.
DataShare Reports
The DataShare reports in each engagement have been reclassified into the following categories –
Reporting Packs
Financial Reports
Now includes Financial Snapshot, Income Statement (standard), Balance Sheet (standard), and Cash Flow Statement
General Ledger
Now includes Tax, Bank, and Journal Entry reports
Receivables Ledger
Payables Ledger
New Report Structure visual        
Previous Report Layout                                                                    New Report Layout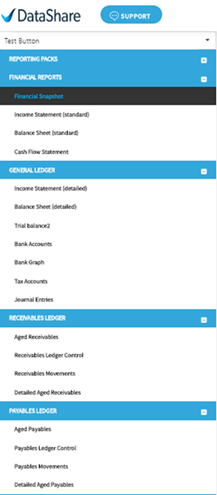 'Reset' Button
A new 'Reset' button has been added to reports which allow you to quickly reset the report back to the default after any changes to the time period or variance are made.