Data Refresh
Data Refresh is a product that enables clients to trigger the upload of their customers' data for online connectors themselves, up to once a day.
Given the level of legal responsibility, we must ensure that our contract with our client and the financial service agreement between our client and their customers cover this new type of data provision.
Data Refresh can be accessed from the Settings menu. On the engagement dashboard, click Menu > Settings.

Once in Settings, click Modules > Data Refresh to open the Data Refresh Dashboard.
From the new Data Refresh Dashboard, Clients see ONLY the customers who are compatible with Data Refresh. This is a shortcut in the journey to the customers' data.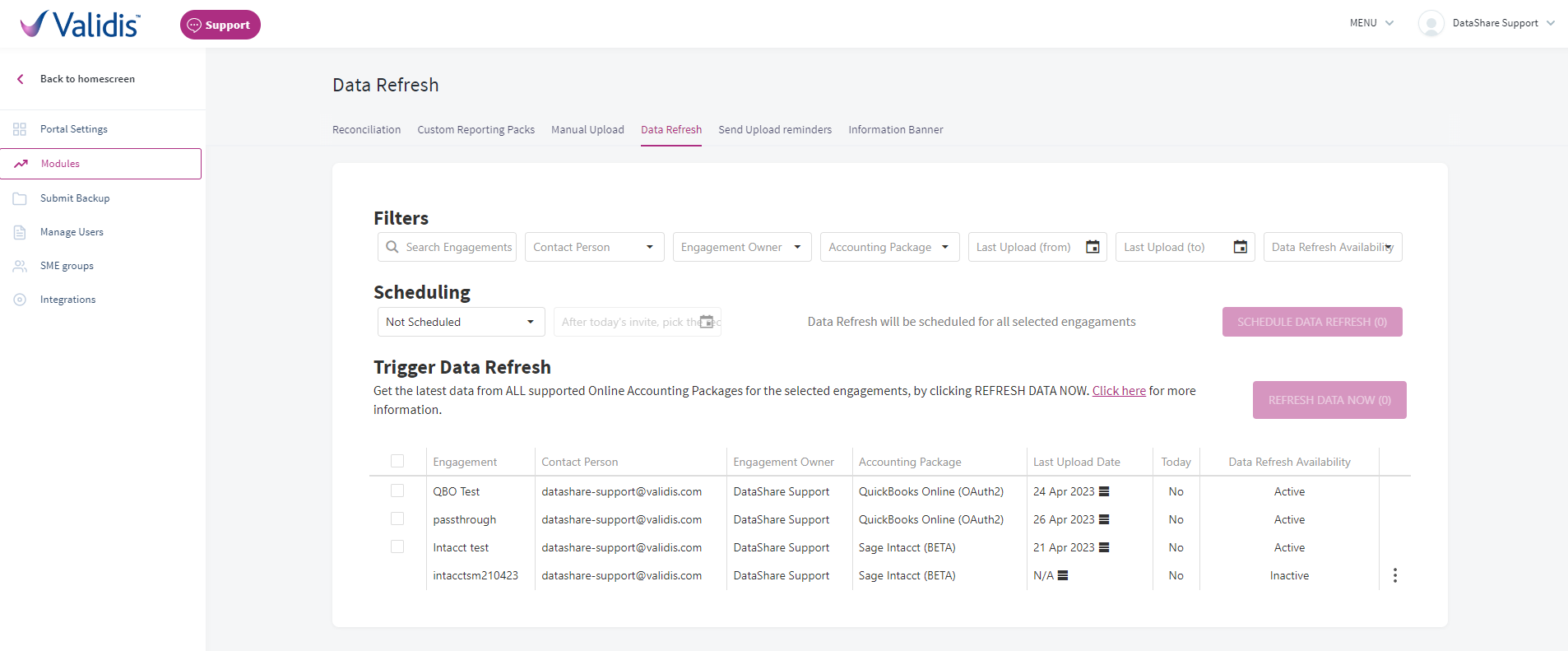 Data Refresh compatibility and view conditions
Data Refresh shows engagements:
Using online connectors
Accessible to the client according to his profile type (this mirrors the view in Admin > Engagements)
Data Refresh Dashboard then offers multiple functionalities that will facilitate and quicken up the upload process.
Engagement details view and tools
For clarity and improved user experience, the Data Refresh Dashboard displays and enables filtering by:
Search Engagements
Contact Person
Engagement Owner
Accounting Package
Last upload from
Last upload to
Data Refresh Status

Using Data Refresh
From the unfiltered view, or the result of their search, Clients can select ALL/multiple or one engagement, and click REFRESH DATA NOW to trigger the upload process.
From there, NO ACTION is required from the customer, and the upload process will take the same amount of time as it would if it was performed by the customers themselves.

Please note that the Data Refresh Dashboard selection automatically excludes:
Engagements where the Data Refresh daily cap was reached (One Data Refresh per day per engagement)
Engagements where Data Refresh status is inactive (Customer has not accepted the new EULA or has not entered their credentials since Data Refresh was implemented).
This will limit the number of failures in the Data Refresh upload process and helps clients take action accordingly.