Before attempting to upload your accounts using Universal Connector, please ensure the following:
You have exported the most recent month for your Sales Ledger and your Purchase Ledger from your accounting package.
The reports you have exported have columns:

Company name
Base currency balance
Transaction currency Balance
Transaction date
Currency code
Accessing Universal Connector
To begin the upload process using Universal Connector you need to be logged in to the LedgerShare portal.
From within the LedgerShare portal choose the Engagement for which you wish to upload data.

Choose the Collateral option and select Accounting Package from the drop-down menu.
If your accounting package is not listed, please select "Other Accounting System" and click "Continue" to access Universal Connector.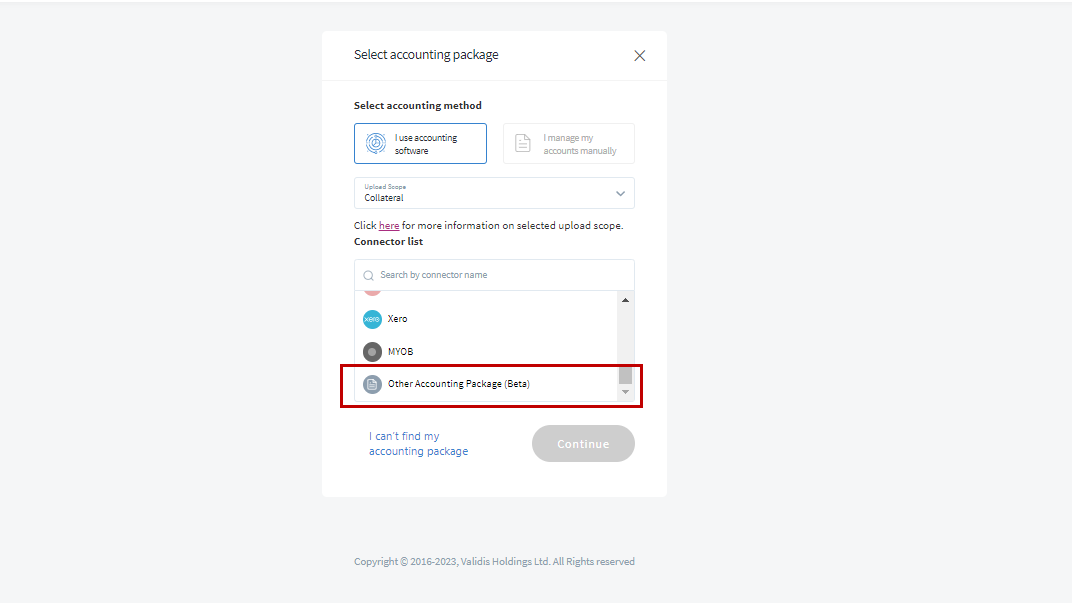 Uploading your accounts with Universal Connector
Within Universal Connector, you can select one of the "known" accounting packages, or select "Other Package" in the drop-down list.
Enter the name of your accounting package in the text field below, and select the base currency of your accounting package.
If you are trading in multicurrency be sure to select YES on the dropdown.
Click Next.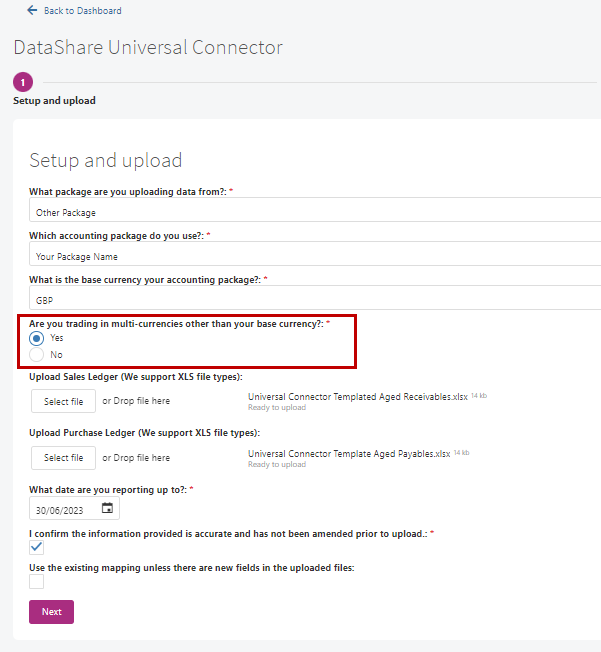 You will only need to select the files to upload. To do so, follow the below steps:
For Upload Sales Ledger Click "Select file" and browse your computer to select your sales ledger

Excel report.
For Sale Purchase Ledger Click "Select file" and browse your computer to select your purchase ledger

Excel Report.
Enter the date you are reporting up to
Check the box to confirm the accuracy of your data
Click

Next
Linking your Excel reports fields to Validis values
After your files were processed you have the opportunity to see how your data was mapped and supplement or correct it. Complete Mapping for the Sales / Receivables Ledger, click Next, and do the same for the Purchase / Payables Ledger.
Click here for the Validis Values definitions.
The 5 fields on the left are mandatory and must be filled out.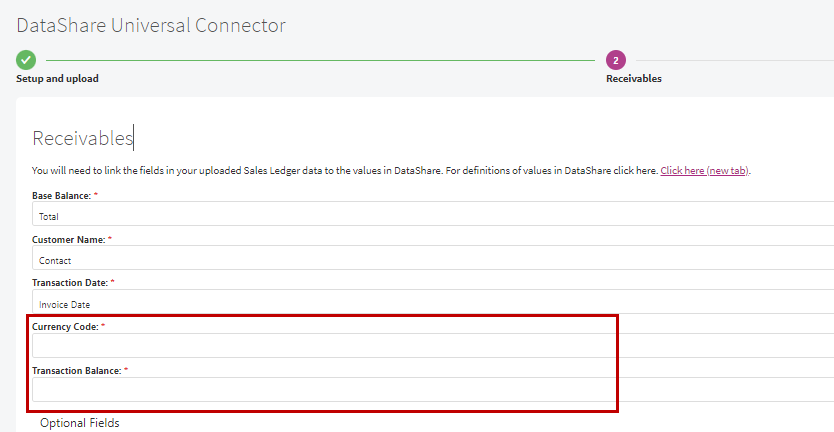 Once you have done this for Sales and Purchase Ledgers, your data is submitted!