Launching Validis Connect
You are online and connected to the internet.
You have a Sage Business Cloud Account and you are able to access the data you wish to upload.
You know the User ID and Password for your Sage Business Cloud account.
You may need to ask your IT department for some of the above information.
This connector is released in 'Release Candidate' status. A connector with a 'Release Candidate' release status means that the connector is available to all customers and has been fully developed and meets all the Validis software and security standards. A 'Release Candidate' release has been developed against vendor-supplied test data, meeting the Validis standard of upload processing. Connectors released in 'Release Candidate' status have successfully passed BETA testing and had a small volume of live data sets uploaded.
Where a connector is released in 'Release Candidate' status, Validis might ask customers and partners for backup files and will be requesting direct feedback to improve the connector.
It should be noted that any issues discovered with a connector released in the 'Release Candidate' status will be managed on best efforts but not within existing production SLAs. The 'Release Candidate' process may highlight issues that require further development.
For further information on "Release Candidates" connectors, please view the Release Candidates Definition article.
When uploading your data from a Cloud Accounting Package, such as Sage Business Cloud, Validis does not need to use the Validis Connect component to perform an extract of your data. This means you can start a Cloud Accounting Package upload from any machine with a supported web browser.
To begin the upload process you need to be logged in to the Validis Portal.
From within the Validis portal choose the Engagement for which you wish to upload data.
Once the appropriate engagement is selected, select Upload.
If enabled, please select either Collateral or Full as the Upload Scope.
Choose the Accounting Package from the drop-down menu. You can type in the search bar to locate the Accounting Package quicker.
When the correct Accounting Package is selected click the Continue button.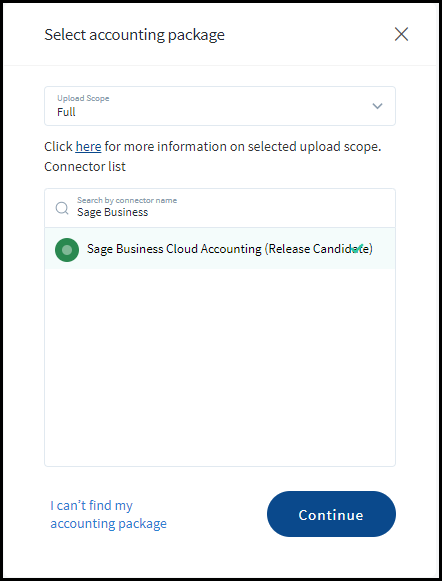 Validis Connect for Sage Business Cloud
Click Download on the Download Validis Connect window. This will initiate a connection between the Validis platform and Sage Business Cloud.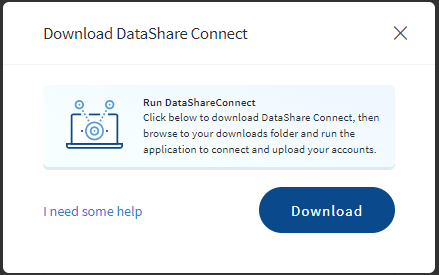 Your browser window will be redirected to the Sage Business Cloud authentication page and connect securely to Sage Business Cloud. You will first be asked to select your region before entering the login page for Sage Business Cloud.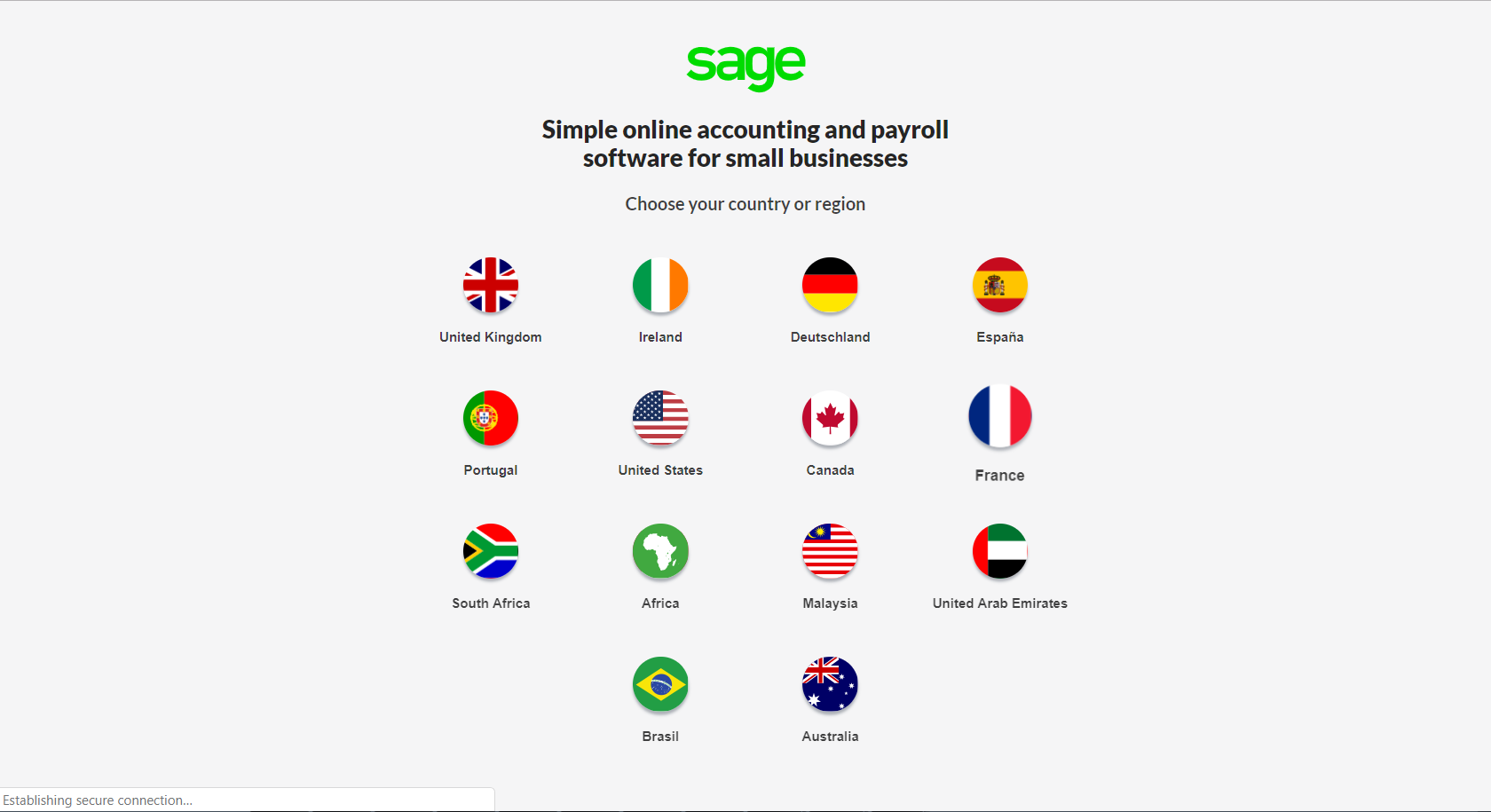 Once you have selected your region you will see the login screen which has the Sage logo at the top.
Enter your User ID and Password for Sage Business Cloud and click Login.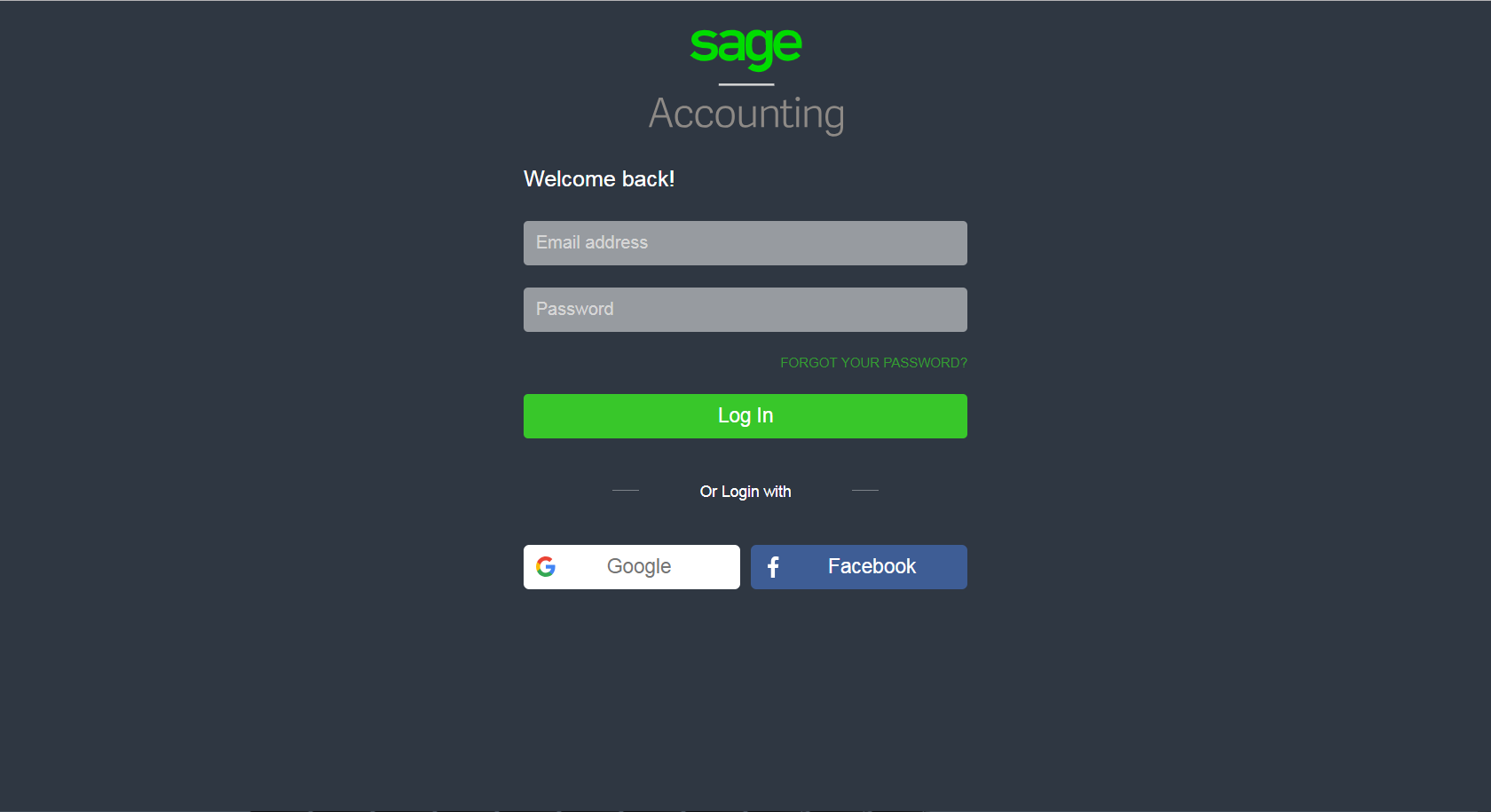 You will also be redirected back to Validis as the connection between Validis and Sage Business Cloud is now established. At this point, the Validis platform and Sage Business Cloud platform are talking to each other in the background and sharing your company data.
Depending on the size of your company file and the number of entries it contains this process may take several minutes to complete but since it is occurring as a system-to-system transfer you are free to carry on with other tasks or shut down your machine and power off if you need to - the transfer will continue. You can view the progress of your upload in the Validis Portal - You may need to refresh your browser.
Please note: We recommend that you log out of Validis once you have allowed Validis access to Sage Business Cloud and your upload status changes to 'Loading'. Upload completion time is dependent on Sage Business Cloud's API usage and status at the time of upload.
When the uploaded data has been processed your Engagement Manager or Client Manager will be notified by email that you have submitted a new upload.