Creating the Engagement
When you add a new external engagement to your Validis portal you will be inviting your SME contact to sign up and create a Validis account.
All Engagements begin by clicking the New Engagement button which is displayed both as a quick link on the Validis Admin tab and a button on the Engagements page.

After a pop-up appears, you will be asked to provide details of the engagement and the users who will be invited to be a part of the Engagement and you may be asked to make some Upload Reminders choices if your subscription includes this option. Once all details have been supplied you can submit your engagement and an email is sent immediately to your SME inviting them to accept the Engagement invitation and complete the signup process.
To complete the form enter the company name and main contact information for the SME you would like to invite to the Engagement then click Continue.
Do not select "I want to upload the data for this engagement myself" - this is only used when you are adding an internal engagement.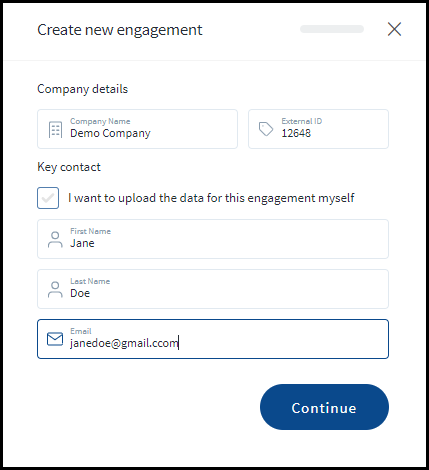 In the next step, if your subscription has the Data Refresh or Upload Reminders option included you will be able to check the option and set up the Frequency and Date. When completed, click Continue.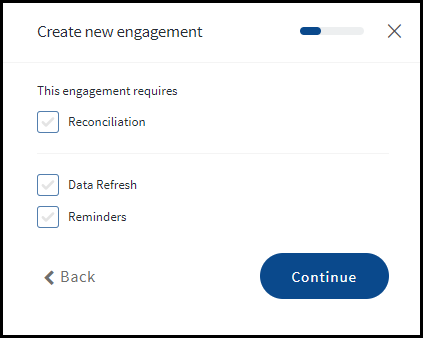 The team section of the new Engagement form allows you to select existing Validis users who will have access to this engagement. At a minimum, you need a Relationship Manager and an Engagement Owner. When done click Continue.
Be sure to create the users you wish to manage in this engagement before you begin.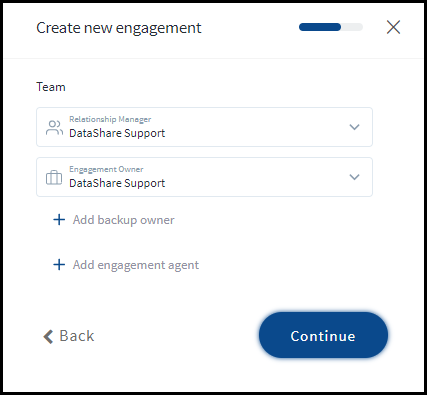 If your subscription has the Passthrough option included you will be asked if you wish to use it or not on this new Engagement. Select the Disabled or Enabled choice from the drop-down then click Continue.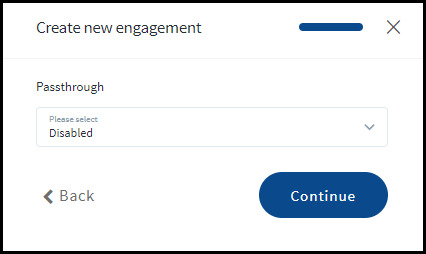 The SME contact you have invited will receive an e-mail informing them that you would like them to join your Validis portal.
Communication sent to invited customers
When new customers are invited to use Validis (through a new engagement or as SME Contact users), they will receive emails from the below templates :
Invitation Reminder for SME (Sent 7 days after the date the invitation was sent - if they have not signed up)
Invitation Reminder for SME: Subject
Invitation expired: Body (Sent 30 days after the invitation was sent - if they have not signed up)
Invitation expired: Subject
Invite SME: Body (The actual invitation email sent when the new user is invited to the portal)
Invite SME: Subject

SME user accepted the invitation: Body (Sent to you when your customer accepted the invitation and activated their account on the portal)

SME user accepted the invitation: Subject
Click for more information about email customisation