The Custom Reporting Packs functionality allows Client Admin users to create a downloadable report using a combination of reports available in the Working Papers.
Configuring a Custom Reporting Pack
Generating the Custom Reporting Pack
Below is a list of the reports that can be selected to configure a customised report on DataShare. Please note that each Customisable Reporting Pack has a maximum limit of 20 reports.
Reports
Accounts Payables and Accrued Liabilities
AP Aging Comparison
Aged Payables
Detailed Aged Payables
Payables Movement
Payables Open Items List
AR Aging Comparison
Receivables Ledger Control
Receivables Movements
Subsequent Sales Activity Analysis
Initial Audit Sales Activity Analysis
Aged Receivables
Detailed Aged Receivables
Receivables Open Items
Sales Invoices
Top 20 AR
Cash Summary
Schedule of Bank Transfers
Equity Summary
Equity Movements
Engagement TB Import Data
Engagement TB Import Data Group
Financial Snapshot
Income Statement (Standard)
Balance Sheet (Standard)
Cash Flow Statement
Income Statement (detailed)
Balance Sheet (detailed)
Trial Balance
Inventory Comparison Analysis
Sales Ledger Control Analysis
Investment Summary
Long term debt summary and analysis
In-Kind Revenues and Expenses Summary
Grant Analysis
Program Revenue and Receivables Summary
Contribution Revenue and Receivables Summary
Other Assets Analysis
Fixed Asset Summary and Analysis
Fixed Asset Movements
Tax Analysis
12-Months Aged Receivables (days ageing)
Configuring a Custom Reporting Pack
To create a customised report a Client Admin user will need to navigate to the 'System Configuration' and click 'Customised Reports'.

Clicking the 'Create Report' button will all you to configure a new report.

Name the report and proceed to add up to 20 reports by using the '+' button and drop down selections.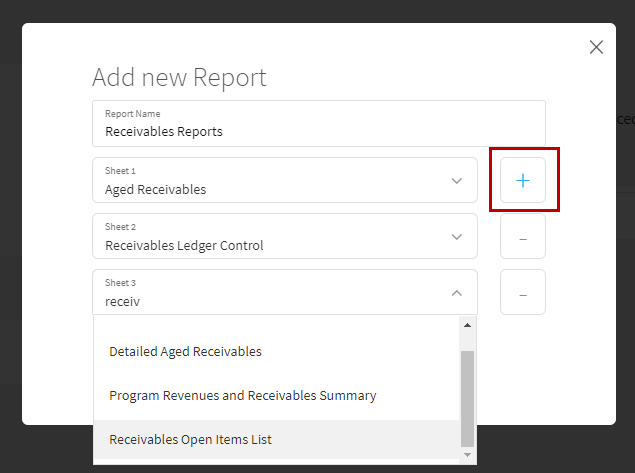 Once you have configured your customised report click 'Save'.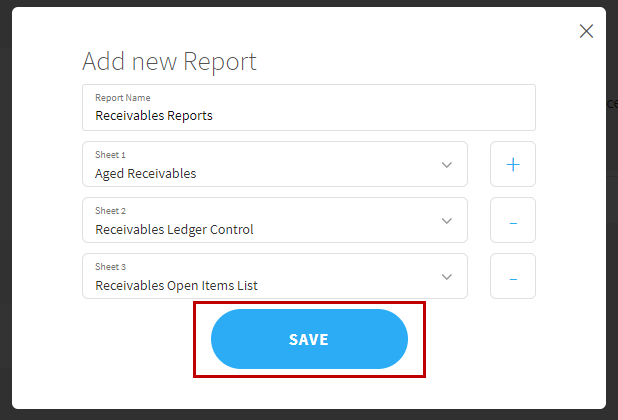 Generating the Customised Reporting pack
After the above steps have been completed the Customised Report will be available to be used on vReview section of the portal under the heading 'Customised Reports'.

To generate the report you will need to select a Financial Period and click 'Generate'. Depending on the reports selected during the configuration the Excel file will contain relevant information for and up until the selected financial period.